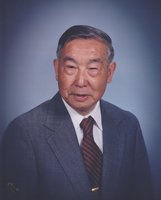 Peh Sun Ku
Peh Sun Ku, 95, of Berwyn, PA passed away on Friday, December 29, 2017 at his home. He was born in Yishui County, Shandong Province, China on August 23, 1922, the eldest son of the late Hai Men Ku and Chien Hwa (Huang) Ku.
Peh Sun graduated from National Central University (Nanjing, China) in 1948. He then moved to Taiwan to begin work at an oil refinery in Kaoshiung. In 1949, when the fall of the Nationalist Chinese government was imminent, he returned to China to move his family to Taiwan.
Peh Sun arrived in the United States in 1954, earning his Masters Degree in Chemical Engineering at the University of Rochester. He then attended Yale University, earning his PhD in Chemical Engineering in 1960. During his time at Yale, he married his wife of sixty years, Hui Chen (Sun) Ku in 1957, and the following year, his eldest son John was born.
The Ku family then moved to Seattle, Washington, where Peh Sun was employed by The Boeing Company. His second son, George, was born in Seattle in 1961. In 1964, Peh Sun accepted a transfer to Boeing Vertol, outside of Philadelphia. He was later employed by General Electric and Consolidated Edison. He retired in 1992.
Peh Sun's passions were reading, Chinese calligraphy and classical Chinese literature and poetry. In later years, he enjoyed daily walks with his wife in local parks.
Survivors include his wife, Hui Chen Ku of Berwyn; two sons, John Ku of Berwyn and George Ku (Elena Lawrence) of East Norriton; brother, Hsiang Keng Ku of Exton, PA; sister, Hsiang Shan (Katherine) Liu of Spotswood, NJ; grandson, Garrett Ku, as well as nieces and nephews.
His Funeral Service will be held on Saturday January 6, 2018 at 10:00 AM at the Moore, Snear & Ruggiero Funeral Home, 19 East Germantown Pike, East Norriton, PA 19401.
Relatives and friends may call on Saturday morning from 9:00 to 10:00 AM at the funeral home.
Interment will take place in Limerick Garden of Memories, Limerick, PA.
In lieu of flowers, memorial contributions may be made to: Berwyn United Methodist Church, 140 Waterloo Avenue, Berwyn, PA 19312.