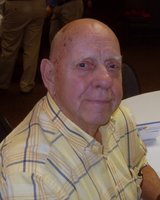 James Donald Bean
James Donald Bean of Audubon, PA, passed away on December 30, 2017 at the age of 90. James was born on July 13, 1927 in Geneseo, IL to Clare Bean and Lora E. Downey Bean. He was a star athlete in football and track at Geneseo high school, where he recently was inducted into the Hall of Fame for track. Upon graduation from high school, he enlisted and served in the U.S. Navy under the V-5 program during his college years. James graduated in 1949 from Iowa State University with a Bachelor of Science in Chemistry with minors in Math and Physics. He worked for John Deere (Rock Island, IL and Ottumwa, IA) from 1949 – 1954. He moved to Norristown, PA in 1954 to begin a long career at Superior Tube Company, Collegeville, PA. He held many positions during his 40 years at Superior until his retirement. He was a charter member of Gloria Dei Lutheran Church (Ambler, PA), President of Jaycee's, Volunteered at Valley Forge National Park and drove patients to hospital visits. For the last 13 years James and Hedi have lived at Shannondell Retirement Community. Hobbies included camping, photography, bowling, and tennis. He was a member of the American Society of Metallurgists.
James is survived by his wife Hedi Bean of Audubon, PA; sister, Carol Maplethorpe of Antioch, IL; daughter, Terry ( & David) Lupo of Mt. Pleasant, SC; daughter, Vicky Bean of Antioch, TN; son James J. ( & Tamara) Bean of Cary, NC; son, Charles ( & Karen) Smith of Hatfield, PA; daughter, Pam ( & Tom) Laurent of Maple Glen, PA; 10 grandchildren, and 2 great grandchildren. James was preceded in death by his parents, brothers Herbert, Paul and William Bean, and by his daughter Amy Derfler.
Relatives and friends are invited to his Memorial Service on Saturday, March 10, 2018 at 11AM at Saint Andrew's Lutheran Church, 2725 Egypt Rd, Audubon, PA 19403. Interment will be private in Augustus Lutheran Church Cemetery, Trappe.
In lieu of flowers, please send memorials in James' name to: the Valley Forge Park Alliance, c/o The Friends of Valley Forge Park, 1400 North Outer Line Drive King of Prussia, PA 19406 www.vfparkalliance.org