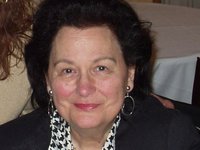 Kathleen Tarras Earley
Kathleen T. Earley, 84, of Plymouth Meeting, PA passed away on Friday March 2, 2018.
She was born in Charlestown, West Virginia on June 18, 1933.
Kathy has lived in Plymouth Meeting, PA since 1970, formerly of Philadelphia, PA and York, PA, where she was raised. When Kathy was four years old, she and her mother went to Greece to visit relatives. Her father stayed here in the states to tend to the restaurant they owned. While over there, WWII broke out and Kathy and her mother were stuck in Greece for 7 years. Many times close to death by Hitler's army, she and her mother managed to survive and returned back to the USA. She had to re-learn English all over again.
After high school, Kathy attended Shippensburg University (then, College).
She performed in many shows at York Little Theater and then got into television and started out at WGAL-TV in Lancaster.
In the early 60s she moved to Philadelphia and continued to work at various local TV stations in the city. She did the weather, and was the first woman to have her own talk show in Philadelphia – "The 5 O'Clock Show with Kathy Tarras." She also acted in many plays at the Philadelphia Drama League.
She was a member of SAG, AFTRA, and the Broadcast Pioneers of Philadelphia. In fact, she was the first woman to get her AFTRA card.
Kathy enjoyed dancing and was a dance instructor at Arthur Murray's Dance Studio many years ago.
She attended St. Sophia's Greek Orthodox Church of Audubon, PA where she enjoyed going to the Greek Festivals three times a year.
Daughter of the late Christos & Vasiliki ( Athanasiadis ) Tarras.
Beloved wife of the late Joseph P. Earley.
Survivors include her
Daughter: Christine D. Earley Plymouth Meeting PA
Sister In Law: Mary Ellen Earley Lafayette Hill PA
Nephew: Jim Earley West Chester, PA
Niece: Maryellen (& Michael) DeLuca Baldwin, MD
Grand Niece: Tessa DeLuca
She is also survived by many other friends that considered her family. Affectionately known as Aunt Kathy, Momma, Mom Mom Earley or YaYa, she was a beautiful, strong, classy, fun lady that will be sorely missed.
Her Funeral Liturgy will be held on Friday, March 9, 2018 at 10:00 AM from the St. Sophia Greek Orthodox Church, 900 South Trooper Road, Audubon, PA 19403.
Fr. Peter J. Thornberg will be officiating.
Friends may call on Thursday Evening from 6:00 to 8:00 PM at the Moore, Snear & Ruggiero Funeral Home, 300 Fayette Street, Conshohocken, PA 19428 and Friday Morning from 9:00 to 9:45 AM at the Church.
Interment will take place in Calvary Cemetery, West Conshohocken, PA.
Memorial contributions may be made in her memory to: Broadcast Pioneers of Philadelphia, Digital Archival Project, PO Box 2886, Bala Cynwyd, PA 19004 OR Children's Hospital of Philadelphia, Cancer Center, 3401 Civic Center Blvd., Philadelphia, PA 19104 (Kathy felt that no child should ever have cancer).